Welcome to Studio Maato
Both the studio environment at Studio Maato and my approach to teaching are informed by an intention to inspire and nurture creative emergence, open up ways of seeing, bring awareness to creative processes and foster the independence necessary to a sustainable art practice.
Studio Maato provides a peaceful, free-flowing space to cultivate creativity and relaxation. A space for you to discover the process of crafting a piece of clay into a piece of art and the incredible feeling of stillness that is present through this practice.
We believe the piece you get to take home with you is the tangible result, but it's just a bonus; rather it's the experience that the making process enables that is the real treat.
Our intention with the studio is that when people come to make pottery they leave feeling refreshed. And this is an experience we can all benefit from, whether a you're a complete beginner or a budding potter.
So if you're looking for that one-of-a-kind activity with a dirty twist, or something to calm the mind, then come get your hands dirty & discover the Power of Pottery!
All workshops are bookings only. Please visit workshop page for upcoming dates and times.
We welcomes you to unwind & experience the art of making : ) !!!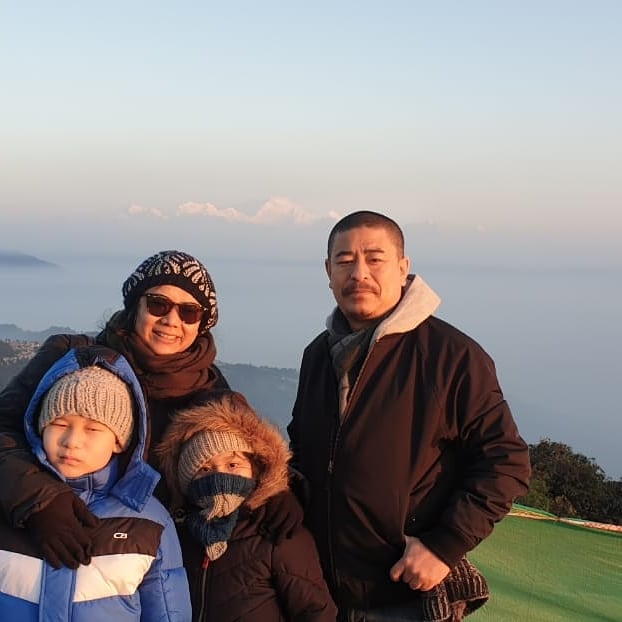 Our Journey
2008– The foundations of Maato were laid for the first time in a small rented apartment near Kitam Bazaar in South Sikkim where she produced the first batch of her products for sale whivh incuded her first limited edition ceramic wares, mainly souvenir items, plates and decorative tiles, ready for sale by the mid of 2008.
2011– Studio Maato was finally set up complete with the pottery infrastructures like blunger, Pot mill, Gas Kiln and other glazing and firing equipment and the studio's logo in her residence in Sorak, Kitam very close to Namchi.
The logo is a brown silhouette of a stupa, embodying the five elements of being-earth, fire, water and rain.
2011-2019– A  lot of women were trained under her guidance in pottery skills which included and two of them eventually ended up working for the studio.
Women were taught to get the clay ready for use, recycling of the clay, kneading the clay, using the slab roller, preparing slabs and some basic pottery techniques like slab work and pinching and also giving a polished finish once the products were made by sanding them before they were fired. They also learned to help the kiln get ready before it was loaded and fired.
2019– With the upcoming airport in Pakyong , they decided to expand the Studio and open another one in their residence located at Gangtok-Pakyong highway in a village called Namcheybong.
2020– Studio Maato continues to produce a large number of souvenir like piggybanks, ashtrays, keychains, incense stick holders, incense stick box, candle stands, soap dish, napkin holders etc., as well as tableware products such as tea sets, coffee mugs, bowls, pots with lids, plates etc.
A lot of rural women have also been trained in the latest Studio in Pakyong out of which two women have been employed at the studio.
They hold workshops for adults and children whenever they can. The pottery workshops allow the people to learn the basics of making forms out of clay. For the children, the workshop allows them to use their imagination and make those imaginations a reality by giving them forms in clay. It is a more playful and creative way of learning for them. For adults, they learn different techniques to make their products. Some find slab work much easier for them to work on while some are keen on learning how to throw on a wheel. In the end both the kids and the adults go home after experiencing learning a new skill.
One can visit the Studio in Pakyong to buy the handmade products or order online from the Maato website. Either way, you'll be bringing home a unique beauty crafted with love and care and a lot of hardwork.